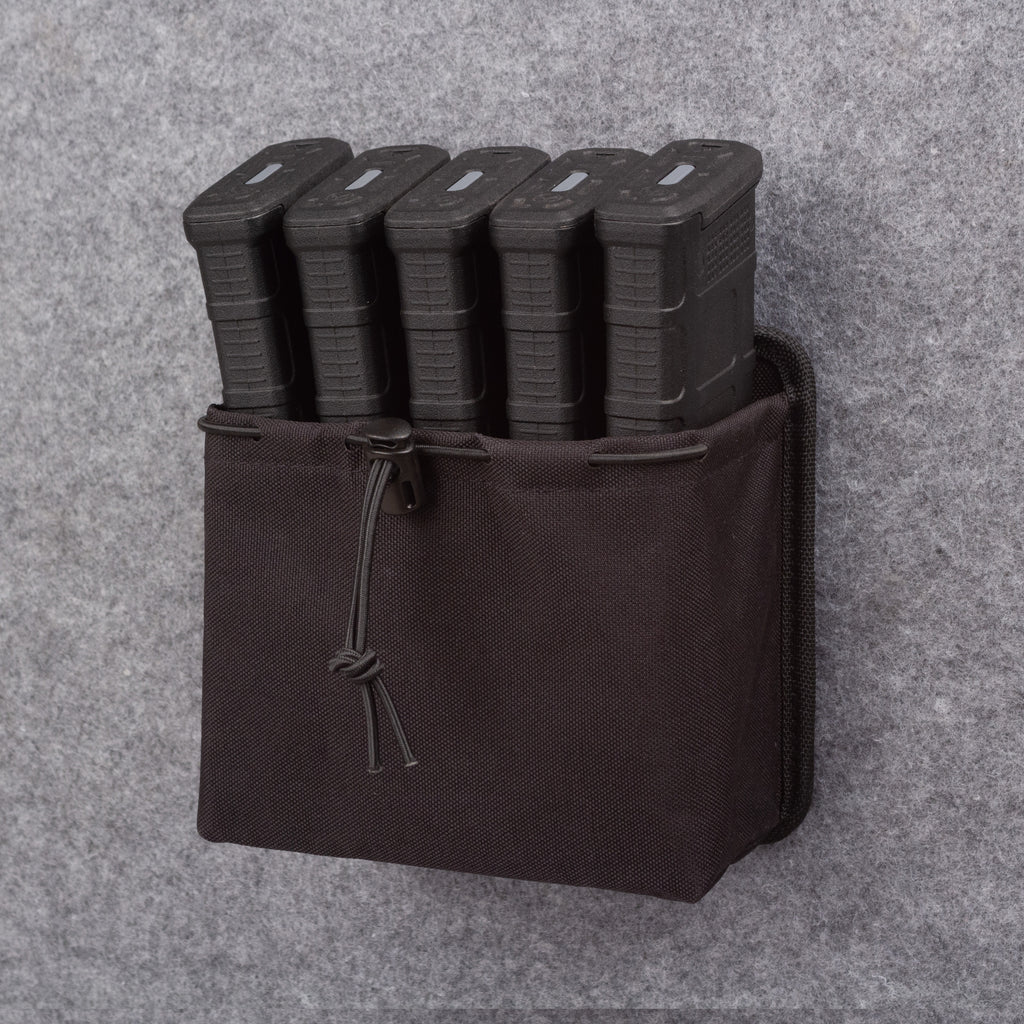 Tracker Safe - Pocket - General (PG563)
The Tracker Safe PG563 is a must have safe accessory. It can hold multiple pistol magazines and AR style magazine. It can be placed anywhere there is carpet; i.e. back of safe doors, inside walls of safes, cars, trucks, etc. Keep your pistol/AR magazines and any other items ready and organized with the Tracker Safe PG563.

The PG563 pocket is constructed of strong durable nylon fabric on the front and the back is fully covered in Velcro. In the center is a thick plastic core that gives the PG563 its rigidity. The pocket has an elastic drawstring around the top of the pocket that is secured with a barrel cord lock. This cord allows for some adjustment to keep items in place. The PG563 also is supplied with a removable plastic insert that lines the bottom and sides of the interior. This liner provides support and structure for heavier items. Please test your safe's carpet for compatibility with Velcro.
Overall Dimensions: H: 5-3/4" x W: 6-1/8"  x D: 3" expanded

Interior Dimensions: H: 4-3/4" x W: 5-1/4" x D: 2-1/2" 

Securely Holds Multiple Pistol Magazines and AR Style Magazines

Full Velcro Back

Weight: 5.5 oz

1 Year Warranty
Recommendations:
1) Plan: The mag pocket does not stick to velour style carpet. Look inside you safe and notice where your shelving and gun racks are located. Typically, the pockets need to avoid overlapping or contact with the interior shelves or gun rack.
2) Test Fit: Test fit the pocket's location on the door panel so that it will not interfere with interior shelving or other objects inside of the safe. Usually there is very little space between your interior shelving and the back panel of the safe door. 
3) Test Fit with Your Gear In The Pocket: Test the pocket loaded with your gear. Close the door slowly and see if it closes smoothly and without resistance. You should not have to force your door shut.
4) Designate a Permanent Place for The Pocket: Designate a permanent place for the mag pocket so that the mag pocket is not moved around often. Moving the mag pocket from place to place on a carpeted surface may cause the holster to pull the carpet away from what the carpet is attached to.
5) Never force your door shut: If your door does not close and stay closed easily, then the pocket needs to be adjusted to a different position or removed. Forcing the door to shut and locking it may result in your safe not operating properly which could cause wear and tear on other components in the door mechanism.